Croatia part 1
Let me tell you a story.
After 4 and a half months of travelling, I started to be really tired. And because the administrator inside me prepared everything before the beginning of my adventure, I knew Croatia was my holiday country. I had to enjoy sun and beaches and wonderful landscapes after so many big adventures.
It was just the beginning of a new one. A huge one. One of those that put you in front of yourself, your limits, your soul. And when I put my feet on the ground of this new country after 4h of hitchiking from Belgrad, I had no idea of what would arrive to me. And I couldn't have imagined it even in my wildest dreams.
So, my first stop is Zagreb, in a small village 30min to the city center by train, to meet David, my first host here. If you don't know about the hospitality of Croatians, let me explain :
" can I help ?
- Yes ! You can sit on the chair here !
- I can cut some carrots maybe ?
- I know, do you want water ? Tea ? Juice ? Beer ?
- Euh... Water is ...
- "Et voilà !" Enjoy and relax ! You had a long journey to come here ! Do you want some crepes ? I do the best crepes in all of the Balkans ! "
And yes, this 2m high young guy made crepes for me, the French queen of the crepes, the best in all of the North of the world ! He showed me his town, then Zagreb, then we played guitar together, and sang, and had a karaoke, and laghed a lot whilst speaking about the world and the Balkans.
Then, I had two wonderful days, relaxing, but with no plan for after. Maybe joining Zadar, in the middle, and relaxing along the coast, to finally sunburn my body which it deserved after such a long time in the North behind the wall. I finally left this small paradise behind me and took the road to the coast without even taking any souvenir pictures.
This journey has been a wonderful time I shared with a famous director of documentaries, who had worked with stars like la Mano Negra or Madonna and knew a lot about the world behind the stage.
Arriving in Zadar at the end of the afternoon, with no plan but my tent in my backpack, I just raised my head when in front of me a fairy with a clarinette called me with some chords. Amélie, and later her close friends, would share my life for few days here. Juggling and busking, playing guitare and singing in the street, sleeping in this free camp site with the sea as the only limit, and taking the sun, waiting for the forever second. 5 days with this group of circus guys, Félix and Amélie from France, Enrico from Italia, Manu and Caro from Chile, Jan from Germany, learning to slow down life and enjoying every single moment, just sat on the ground and meeting new people.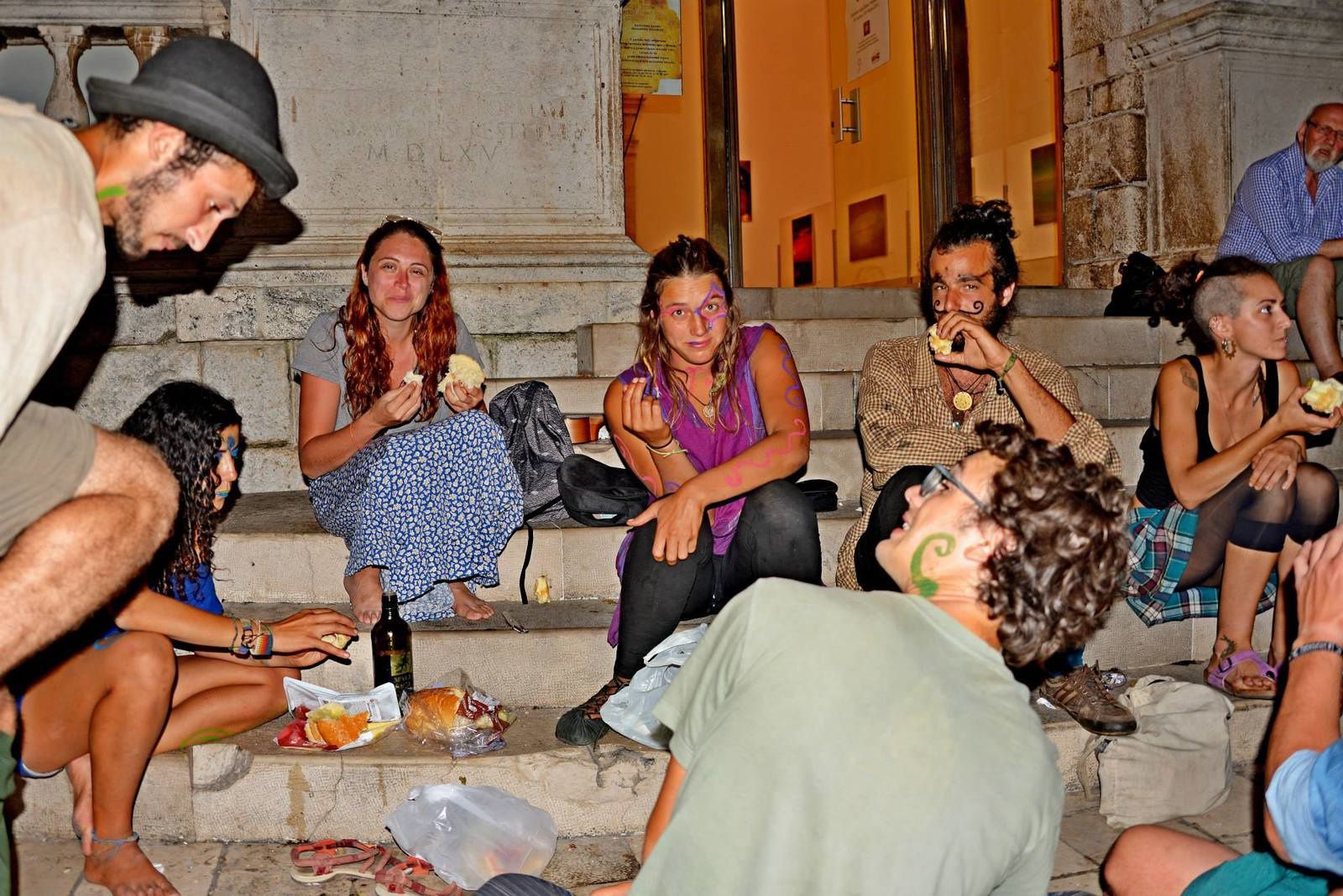 Then, we decided to go to Krka National Park with Jan and picked up randomly a French hitchhiker on the road. There, having a wonderful swim and sharing a few parts of our lives before grapes and figs. My first time as a driver helped me to meet a great guy, crazy enough to follow us in the deep water of the river of this trip. A great time in the north of Dalmatia, but I still didn't have my complete vacation, with my brain turned off and a bed, the silence and the solitude I missed so much since I arrived in the South. I had to continue, getting on an island, having my first nights in a hostel, sleeping for 24h and not worrying about my luggage any more.
Jan drove me to Split on the road of his own travel and I took the last ferry to Hvar. There, I had two nights in a small hostel, the time to discover a piece of wood stuck in my eye, go to the only optalmologist on the island, scared to have to go back home so soon, and to have a request from the White Rabbit Hostel to make my crepes for their breakfasts for one week.
I will finally have my holidays, working at the same time, preparing amazing breakfasts for all my hungover guests. Having just lived some of the most amazing moments I have ever lived in my life. Singing with my heart in this small restaurant in Hvar, and listening this Croatian cook singing with his, who just looked at me to share all those emotions...
And meeting those few people who have been able to burrow themselves into my backpack for the rest of my adventures. But that's another story ...
By the way, it one day you go the the island of Hvar, don't miss the White Rabbit, the restaurants Fig and Casablanca (ask the cook to sing to you a marvelous traditional Croatian song).