To hitchhike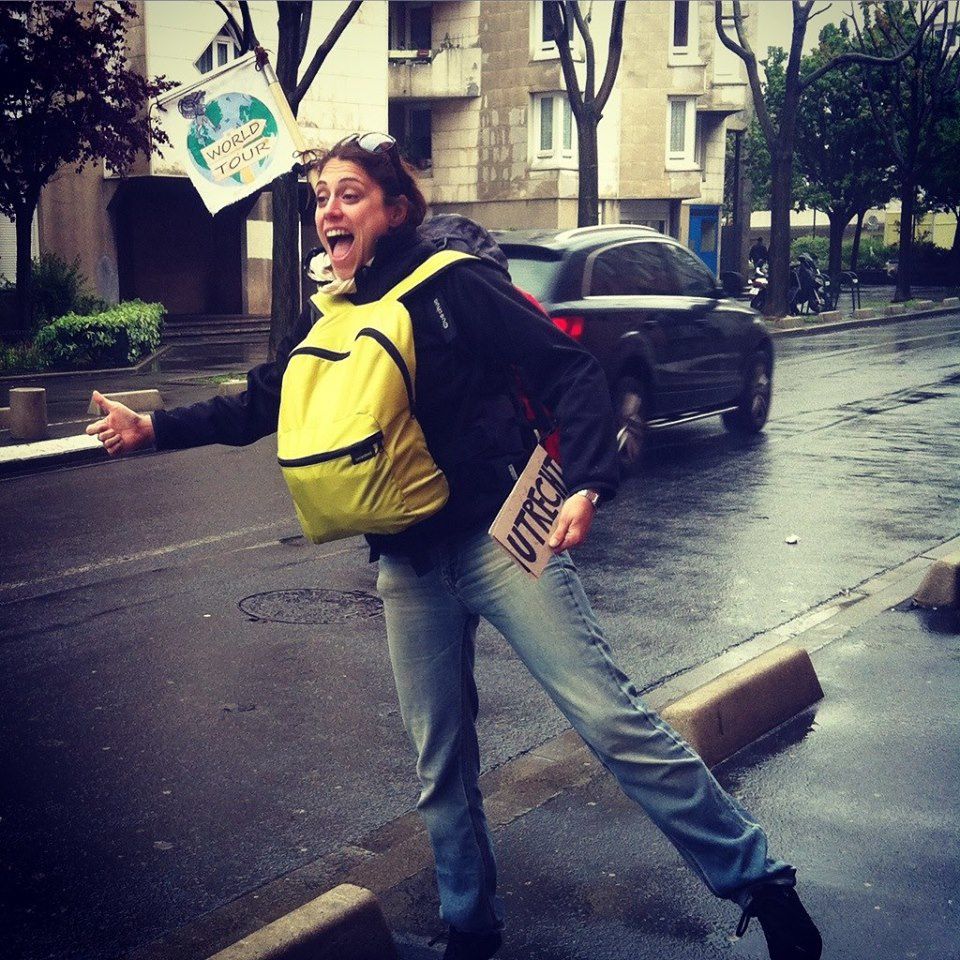 I had a lot of questions about hitchhiking, people are worrying, are dreaming, or are proud to tell me about their new experience as a baby-hichhiker. I tried to convert all my road buddies to this shifted meeting art, allong the road.
After those 3 months of vagrancy, it's time for the first appraisal.
Beginning, Paris, the 30th of April, 10AM. Last stop, Alta, Norway, 19th of july, 7.30PM. I use hitchhiking but also :
- Bus, in Poland, 2€ per ride between two big cities. It's the better way to visit a lot in few time. Polskibus compagnie drop me from Wroclaw to Vilnius, Lituania in one week and 3 rides.
- A night bus from Tartu, Estonia to Saint Petersburg, Russia. I was worried about crossing the border in hitchhiking. I didn't know this country, how it will be at the border, and I had a 6h ride to arrive. I prefered to be secure
- I took a train for Berlin after 3h waiting in Dusseldorf, to be in town before the night (who told me hitchhike in Germany was easy ?)
- And a night train frome Helsinki to Rovaniemi, in order to win 9h and a night in my journey in a country where passing one car every 5 minutes. It was not a luxury choice.

Preparation for Germany, in Dutch Arctic circle, crossed by foot !
Hitchhiking parts :
- Paris-Wijk Bij Duurstede (500km, 8h and 5 cars)
- Haarlem-Amsterdam (50km, 30min and 1 car)
- Wageningen-Dusseldorf (150km, 3h30 and 3 cars)
- Berlin-Wolimiertz (350km, 6h and 3 cars)
- Pasvalys-Klaipeda / Klaipeda-Pasvalys (500km, 3h30 and 5 cars going and 4h30 and 3 cars way back)
- Pasvalys-Riga (150km, 3h and 1 car and 1 truck)
- Riga-Viljandi ( 220km, about 4h together with 2 cars and 2 trucks, a night on the beach and a border crossing by foot on a countryside road)
- Viljandi-Tartu (80km,1h and 1 car)
- Sain Petersbourg-Helsinki ( 400km, 9h, one car and a 4h stop at the border)
- Rovaniemi-Ivalo (300km, 1h30 by foot to find a good spot to stard, on the Arctic circle, and 3h30 in one car)
- Ivalo-Alta ( 360km in 9h30 and 4 cars)
totaling 33 drivers, including 3 trucks !
I didn't have any problem in this or an other journey. Just longs waiting sometimes. The longest have been 3h, arriving two times. First time in Dusseldorf, where I had to finish by train, and second between Ivalo and Alta, where, after have moving out of the town, I found a car in 5 minutes. One only thing to know about hitchhiking : be patient.
I'm practicing what people call "an active hitchhike". I make big waves, jokes, and when the drivers are parked I try to meet them. The best spot is a gaz station on the good road. You just have to ask their direction to the drivers and if they can give you a ride.
I started with cities signs but I stoped to use it. I prefer to stop the cars without signs and be drop when our roads split. Most of the people who go in the good direction but not where my sign ask are thinking they can't help. But, even for 20km, it is already a big victory to leave your starting spot and it give you level up in your energy to find the next driver.
Luck is only for people who believe in it. Hitchhiking and sulking in the same time because you are waiting for 2h, obviously, doesn't work. You just need one car stopping to start, not all of them. Sometimes it's long, be patient ! Every single car passing have just few seconds to decide if you are or not a good and trustable person. And they have to be open minded and ready to meet a new person on the border of the road. If you don't look healthy, or happy, or friendly, even after hours of waiting, for the dubious driver you look seamy.
You have to start in a good mood and a lot of energy to share with your potential drivers. Days without this feeling, I suffer a lot. For exemple, Wageningen-Berlin ending in Dusseldorf. One of my drivers of the day confess to me he took me just because I looked really angry not having a ride and he had pity. It was a taxi driver going to Dusseldorf airport. He made my day.
The best way to find good vibes when all the cars sulk and pretend not to see you ("look honey, in the opposite side of the road, a fence !") it is to make jokes. I always insist to bus drivers answering me with a big smile and a "sorry", and to bikers, who tell me hello and sometimes stop to wish me good luck. To give them a little bit of my energy, having smile and mercy or good vibes, give me back a thousand times my mood. I often have my ride this the car just after the bus, when the driver saw my joke and laghed too. Sometimes also because with this new energy, I wa a new sunshine for their long road, full of mischief and joie de vivre.
a good exemple of "active hitchhiking"
training before going
Generosity of my drivers. I remember half-sandwiches, pizzas, candies, sodas, and sometimes people asked me if I need money or want to offer me a meal at the gaz station. I always say no when it's about money. If I need something I can buy it, I have money. My hitchhike is not about saving money, it's about meeting people and share their story and mine. Every single driver I meet is in my "hitchhiker's book". I always try to know if thy traveled before, their job, and if we can communicate more, in english or in french, I try to know more about their culture or their philosophy.
Laguages. I had sometimes, more between Lituania and Russia, drivers with not any SINGLE word in commun. I spoke in Polish with a Bielarussian truck driver, but none of us spoke the language. It was just the best mix and it was enough and he learned me some bielorussian insults. It is more difficult to communicate if one of us don't want to make an effort to find a common way. I had english speakers drivers with which I just exchange few setences, ang others with which we invented a complete new world with hand signs and garglings.
Dangerous hitchhiking. Not any bad moment make me feel in danger. I refused 3 cars from the beginning, 2 because of the driver who was clearely drunk and 1 because I couldn't understand where the guy was going, the city was not on my map and I didn't feel the driver. Every time, I just followed my instinct. Always, even when I am waiting since hours. There is always a second car which is going to stop, even if you have to wait double time. During the time of travelling, no one have been weird with me. Everyone tried to help me, dropping me on the good road even if they had to make detour. Some of them even ask if I need something more. Drivers where often more worried than me. I could say thqn 90% asked me how I did to not be afraid to travel alone.
My first truck driver.
A bielarussian listening
russian techno and
playing with his radio
transmettor.
The statistic about my drivers : majority are men, alone, often moving for work, often commercial worker, often in very luxuous cars. Yes, I'm riding confort all inclusive, baby ! I don't think the main reason is because I'm a woman. It is because men are less afraid than women to take hitchhikers. Cars with more than one people inside need less friendship, have a lot of staff, or children. And children mean "I have to protect my kinds against dangerous and mad hitchhikers" (*blaming conservation instinct of human species*). This statistic did not change in any country I crossed. After, not so far, the couples, young most of the time, or really interresting people, happy to meet someone new. Woman have also a stong temper, like 2a hitchhiker ! stop the car ! stop it damned !". Really fun people, speak english most of the time, open minded and travel far away. My favorite companions, because with them, my survival instinct can have a little bit more of resting.
When did I stard hitchiking ? First time in 2009, with Alex of the Warzazatte band, a real adventurer. I was really afraid, even if we have been pick ut by a bus (once in a life !), and next by a nice couple who gave us home made arabic thea and biscuits. After that, nothing for years. And when I had to go to Châlon-sur-Saone from Lyon to get my tent for this journey, I decided not to take the train, but training myself with hitchiking before leqving. It was in october 2014. I loved the sensation and decided to train more before my big start. I tried a lot of roads in France, even a Metz-Lyon-Lyon-Paris to go to my last meeting in Pôle Emploi (according the dictionnary : French institution to help jobless people find a job or get a subsidy, according to me . French institution who should help jobless people find a job or get a subsidy but who create more problems than you have at the beginning and give you, sometime, money) day before the day before my start. I start late because when I was younger I was not able to judge if my drivers were trustable people, to show I was a good companion and say "no" if I didn't feel the ride.
Advices to new hitchhikers : First thing to know : trust your instinct. Secondo : trust your instinct. And finally : trust your instinct. Never be too excite when a car is stopping. You can be happy when you are sure of your destination and your driver.
- Keep in mind than you cannot hitchhike on a too big distance in one day. A 6h long journey is quite enouth to take your all day. If you whan to try a longer distance, you need to be a lucky guy. You can choose to travel several days and take a tent with you, or better, sleeping in your driver house. I never had this opportunity, but you can try, a lot of road professionals did it already. But it's always about feeling.
- Have the map in your mind, in your pocket or in your phone. Never stop watching the road during the trip. Firsteval, you never know if the driver understood properly your destination, and secondo he can forget to drop you before the turning road. It is also important to find the next better spot for the next car (gaz station or bus stop, ...) If you have a map, you can show it to the driver. It helps when you don't have the same language.
- Be able to say "no". If the driver isn't inspire you, or if his destination is not good for you, dont be shy, just say "no, thanks". My thing is to open the passanger door, asking first "where are you going ?" staying outside and see how the driver reacts. The driver don't know yet where I want to go exactly, so if I'm not sure of him, I say it's not my destination, thanks him and close the door. Generally he's happy to have tried to help and just go. Be carreful about the speed and his way to drive too. Tell him if you are worry or afraid, even if you have to leave before your destination. If you are nice, he will understand. You are certainly not the first one to tell him.
200km/h, Highway from Berlin to Dresde, no speed limit, good german brand, good driver, good road. But I'm still a little bit axious ...
- Be able to know quicly if you can trust your driver. It is the thing to get to succed in hitchhiking. Different clues : how the driver looks like, is he clean, sober, ... and his car too, is it clean or not ? I will not have the saøe first iøpression if I see baby toy or empty beer bottles. I can trust more a father than I trust a party guy in a sunday morning. The atmosphere is important. If you have bad feeling, it can be good not to go with this car. But don't be paranoïac and make the difference between instinct and fear.
- Leqrn how to do in the country you are crossing (sign or not, difficulties, duration of waiting, bodylanguage to hitchhike, ...) There is a lot of informations about it in internet, and a really good website give you a lot : http://hitchwiki.org
- Some people advise to take the licence plate number and send it to family or pretend to do if your phone is not passing in some countries. I never did it personnaly, but if it make you feel more confortable, why not.
- When I leqve the cqr, I always have the same ritual: I'm really afraid to forget something inside the car. I let the passager door open when I go to take my staff in the back, double check, and come back to say good bye, thanks and finally close the door.
So, this long explaination, sorry for my english, based on my own experience, just to say than the fear paralyse and the others, the one you don't know yet, are really interesting people ! Hitchhiking is always a good time to share. My favorite moment is when I put my feet on the floor of a new country and I already know a little bit of the language, specialties to eat, and places to be without any tourists, just me and locals !
Thanks for your reading, it's up to you now !