Passer une frontière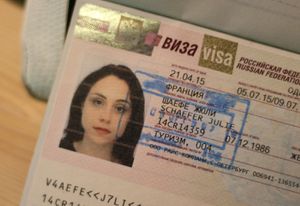 Née en 1986, j'ai grandi dans l'espace Schengen. J'ai le souvenir d'avoir toujours connu la frontière avec l'Allemagne, à 50 mètres de mon jardin, ouverte et traversée à pieds par mes quelques amis pour acheter des clopes aux distributeurs automatiques dans les rues de Volklingen.
J'ai la chance d'être née en France et de pouvoir depuis toujours évoluer au sein de l'union européenne en toute liberté. Les quelques frontières qui m'aient résisté ont été les États-Unis, le Japon et les Émirats Arabes Unis, où après un rapide coup d'œil sur mon passeport, l'agent douanier me saluait d'un sourire entendu, me souhaitant la bienvenue sur son territoire. Je me souviens même de cette fois, à la douane de l'aéroport de Madrid où le douanier m'indique ma housse de guitare me demandant de lui jouer un morceau, et moi de m'entendre lui répliquer "it's not a guitar, it's a weapon". Un sourire s'affiche sur son visage, comme toujours, il rit de bon cœur et me laisse passer. J'ai toujours ressentit les frontières comme une formalité, appartenant à des temps anciens auxquels nous avions échappé après deux terribles guerres pour la paix.
J'ai vu les lignes de files d'attentes dans les aéroports de ceux qui n'étaient ni "USA/Canada", ni "EU", longues de visages angoissés et fatigués, des quatre coins du monde. Je me suis toujours dit que j'avais bien de la chance. Il m'a toujours été difficile, voire impossible d'appréhender la limite physique et l'impact psychologique du passage d'une frontière.
La Russie m'avait déjà donné du fil à retordre pour acquérir le visa, précieux sésame à échanger contre une entrée dans le territoire. Aujourd'hui, après deux mois à avoir rencontré les pays ex-soviétiques enfin libérés en 1991, je traversais enfin la frontière du voisin envahisseur. Et traverser cette frontière est une toute autre aventure que de traverser des lignes imaginaires entre deux panneaux de limitation de vitesse et un "welcome" bien senti sur fond bleu à étoiles jaunes.
J'ai mon visa bien correctement vissé dans mon passeport, je suis prête, mais j'ai la peur au ventre. Je ne sais ni si ce nouveau pays voudra de moi, ni pourquoi le gardien est si rude de chaque côté des pointillés. Je garde pour seule référence historique ce dessin d'Uderzo avec des gardes frontières romains, debout de part et d'autre du trait, lance en avant, prêts à affronter quiconque tenterait de franchir la limite qui sépare deux pays, deux cultures, parfois deux univers. On m'en a tant dit sur ce voisin si proche et si différent à la fois, mais en même temps jamais assez. Toujours gardé à demi-mots entre ceux qui savent et ceux qui racontent, sans n'avoir jamais traversé.
Et je vais traverser cette frontière à laquelle mon anglais ne sert à rien, mon alphabet ne sert à rien. Tout ce qui jusqu'à présent avait su éclairer ma route par son caractère presqu'universel était à laisser derrière. Comme un nouveau né, je passe, presque à nu, laissant mon passeport dans les mains d'un inconnu qui disparait avec, un temps long. Je me retrouve à attendre, faible, à compter sur un bout de carton, vital à ma survie finalement. Et puis un sourcil suspicieux se lève, un coup de tampon, un regard noir. "spassiba..." je murmure. Me voilà en Russie.
-----------------------
I was born in 1986. I was raised in the Schengen area. In my memories, German border, 50m from my garden, have always been open. My young friends crossed it to buy cigarettes, in automats in Volklingen streets.
I'm a lucky person because I was born in France and I can go everythere in the European Union, freely. The only real borders I had to cross are USA, Japan and United Arab Emirates. After a small look on my passport, the custom officer welcomed me with a large smile. I remember this moment, at the Madrid airport when the customer officer pointed at my guitar case and asked me to play something, I just answered him "It's not a guitar, it's a weapon". He just smiled, like always, he laughed and let me pass. I have always felt border as a formality, an old one, from another time, before those two wars we needed to bring finally peace.
I saw the queues in the airport. The queues of the people who where not "US/Canada" or "EU". Full of anxious and tired faces, from all over the world. I always thought I was really lucky. It has always been hard, even impossible for me to apprehend the physical and psychological limit on people when they are crossing the line.
Russia gave me already a lot of troubles, just to get my visa. It is the precious you have to exchange against your entry in the territory. Today, after two months visiting all those former sovietic countries, liberated in 1991, I can finally cross the border of this invader neighbor. And crossing this border looks like something really different than all those phantom lines between two speed limit signs and a companionable "welcome" on a blue background with yellow stars.
My visa is ready, stock to my passport, and I am ready too. But I have fear in my chest. I don't know if this new country will want me or why the guard is so rude on each side of the border. I remember this Asterix book, with roman guards, stand up on each side of a dash, lance forward, ready to fight if someone wants to cross this limit between two countries, two cultures, sometimes two universes. I heard so much about this neighbor, so close but so different. The words where always half said, kept by those who know and told by those who speak and never went.
And now, I will cross this border after which my english and my alphabet will be useless. Everything that had enlightened my way before had now lost its universal touch and had to be left behind. As a new born, I am passing, almost naked, giving my passport in the hands of an unknown man, disappearing with it, a long time. I am waiting, and I feel myself weak, hoping on a piece of cardboard, vital to my survival. And a suspicious eyebrow rises, a rubber stamp, a dark look. "spassiba..." I whisper. I am in Russia.